Updates to the Table Needs App
This morning we released our latest updates to the Table Needs App. Read on below to find out what's new!
---
In an effort to continue making the Table Needs platform even better. We occasionally will release updates with new features! Here you can find an explanation of each new feature, and what it means for you!
---
Itemized KDS Items
Prior to this new release, when an order has been submitted to a restaurant's KDS that includes multiples of a single item. We grouped those multiples into a single line item on your KDS and included the quantity. (Like the below image on the left.) With this new update, we now allow you to have these multiples separated out into different line items. Opposed to having them consolidated into a single one. (Check the below image on the right).
You can turn this setting on from within your KDS settings! Simply navigate to the KDS portion of the Table Needs app, select a destination, then click on the "Gear" icon. From here, this new setting is listed under "Show Itemize Quantities".
---
Connecting Card Readers
If you find yourself in a situation where your card reader has been disconnected from your handheld or POS device. You will now see a new prompt when attempting to connect. (See screenshot below)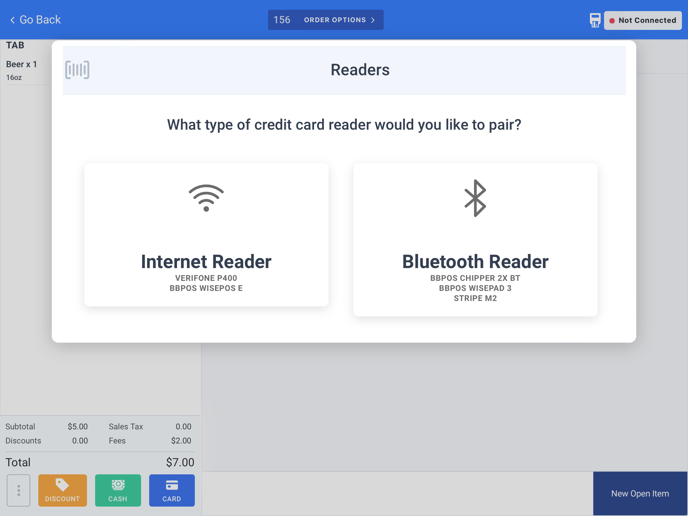 When presented with this screen, you will select the kind of card reader that you currently have with your device. If you aren't sure, it is recommended to go with Bluetooth Reader. As the majority of our partners are currently utilizing them.
---
Point of Sale Refund Alerts
When refunding a payment on a Table, or for an Order. You will now see a pop-up confirming the refund. (See Screenshot below). This alert has been put into place, to verify that you are in fact wanting to refund this payment. Because we do not have the ability to "Un-do" a refund, it is important to double-check and make sure that you want to process it.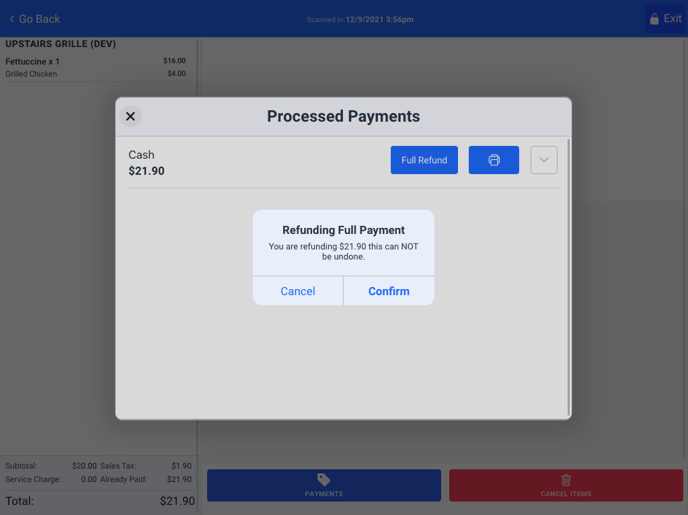 Whether you are refunding a cash payment, card payment, etc. This alert will now appear for any refunds being made in your Table Needs Point of Sale.
---
Point of Sale Payments Screen
This new system update includes a design refresh to the payments screen within your Point of Sale! You still have access to all of the same great features. We simply have just improved the overall experience. Making payment taking friendlier and more intuitive.
---
Other Updates
In addition to the larger updates mentioned above. This release has also brought us some overall system improvements! Changes like this, help with system stability and allow for more new features down the road! These include improvements to payments, reporting, and Menu Management!
As always, if you have any questions for us. You can contact our support team by emailing support@tableneeds.com. And for urgent matters, by calling/texting
(720) 821-4691.